Kirsten Parker
Executive Director
Kirsten has been with the Golden Spike Tower since November of 2013. She was very interested in working for the Tower because of the simple mission to provide an educational and entertaining tourist attraction. She loves that we have such a unique opportunity to help the Union Pacific and our community. The most rewarding part of Kirsten's job is that even though a lot of her work is done behind the scenes, she is still able to get out of the office to interact with our guests and volunteers, it is always such a highlight of the day for her! One of her most memorable moments from her time at the Tower was the day she gave a tour to Facebook CEO Mark Zuckerberg. She was so excited to give him a tour, because he was in her "top 5 to meet". He enjoyed the North Platte Canteen story, and laughed at one of her jokes! Something Kirsten has learned about herself during her tenure at the Tower is how to be resilient. Every day is different at the Tower, and she says that everything you did or didn't need to know becomes part of the learning process, and trial and error become the normal. She's also learned that her job will never be done, as there is always a new way to improve! Her favorite part of Bailey Yard to view when she is up on the 8th floor of the tower is the West Hump, because watching the train cars roll down the hill is very therapeutic. A fun fact about Kirsten: she grew up in a five generation family, and was very close with her great, great grandparents!
Kimberly Martin
Assistant Gift Shop Manager
Kim has been with the Golden Spike Tower since February of 2016. Kim's favorite part of her job is getting to meet all of the people from all different walks of life who come in to visit us. Kim is famous for connecting with our guests on such a high level that she usually ends up being Facebook friends with a lot of them! With Kim, you can always guarantee a smiling face and welcoming heart. She is the manager of our gift shop, so obviously she has a favorite item, which is our "Rosie the Riveter" baseball tee. Kim is also very big on promoting the "Canteen Spirit" in our work environment. To her, the Canteen Spirit means always giving our guests a "welcome home" feeling. A fun fact about Kim: she has poetry that has been published!
Allison Stoppkotte
Tour & Admin Assistant
Allison has been at the Golden Spike Tower since January of 2020, and she wears many hats with her job. Her favorite part about working at the Tower is interacting with our followers on social media. She loves coming up with clever posts to intrigue new people to visit and keep our loyal fans interested. She does work in the gift shop a couple times during the week, and loves to meet all the new people who come in. Allison is also the coordinator of our volunteers. She loves how sweet and funny they are, and she says they are some of the few people who understand her dry and sarcastic sense of humor. Her favorite part about working in the tourism industry is being able to make connections with other attractions and businesses within the community and also across Nebraska. A fun fact about Allison: she sings opera, and has performed in Carnegie Hall in New York City!
Emily Kearney
Gift Shop
Emily has been with us at the Tower since June of 2019.
Annie von Kampen
Gift Shop
Annie has been at the Tower since August of 2020. She remembers coming to the Tower for a Twilight Tour one night, and from that moment on she was hooked on the beautiful sight that is Bailey Yard. She loves meeting all the different kinds of people that come visit, hearing their stories, and getting to know them. Annie is also fascinated with the story of the North Platte Canteen. She loves the fact that the soldiers who visited are so impacted by their experience even though they only stay for a few minutes. One of her favorite memories from working at the Tower is meeting a couple from Boston. She loved their accent and they told so many interesting stories about their lives. A fun fact about Annie: she plays eight different instruments!
Meghan Ward
Gift Shop
Meghan has been with us since June of 2020, and we love having her around! Her favorite part of the job is getting to meet people from all over the world, and being able to share knowledge about something that is so important to North Platte. When asked what her favorite memory of working at the Tower is, she said she can't possibly choose a favorite because she makes amazing new memories every single day. Her favorite thing about North Platte is the ever famous "Canteen Spirit" that we all hold near and dear. She loves how rich North Platte's history is, everything from the Canteen, to Bailey Yard, to Buffalo Bill. She also works for the Game & Parks Commission at Buffalo Bill State Historical park, so she is full of knowledge! Something that this job has done for her, is that it has enhanced her communication skills and allows her to make connections. A fun fact about Meghan: She is originally from Maine, has moved 8+ times, and has visited 35 out of 50 states!
Haley Stansbery
Gift Shop
Haley has been with us here at the Tower since June of 2020, and has loved every minute of it! Her favorite part of working in the gift shop is meeting all the new people from all walks of life who come visit us. Her most memorable moment from working at the Tower is when a huge train fan came in to see Bailey Yard, and she talked with him for over an hour about his love of trains. Her favorite train fact is that a train can be up to 150 cars long! She is a big fan of all the t-shirts that we sell, and she said that her favorite one was the Train Nerd T-shirt. Fun fact about Haley: she LOVES to read. Her favorite book series is The Selection.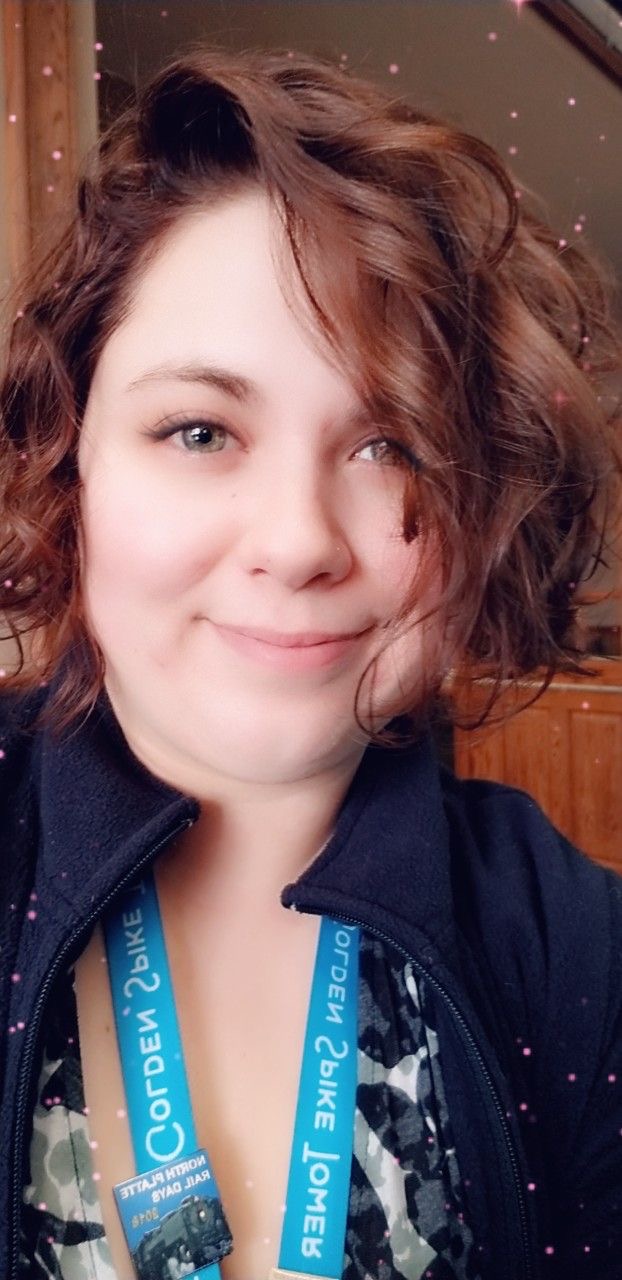 Sarah Robinson
Gift Shop
Sarah has been with the Golden Spike Tower since July 2018. She was very excited to come work at the Tower because she was fascinated by all of the history of the railroad and she knew that working here would be very enjoyable. Her favorite day of the week to work is Saturday because she loves that more people are out and about and she gets to see one of her favorite volunteers. Her favorite memory from working at the Tower is her very first day as an employee, she met a couple all the way from Australia. Her first day of work was very fast-paced and this couple was very patient with her being new. She also loves our Hall of Fame, which is located on the first floor. Her favorite inductee on that wall is William A. Riley Sr., because he represents a big step that Union Pacific took in including more diversity in their staffing. A fun fact about Sarah: she has a cat named Mouse!